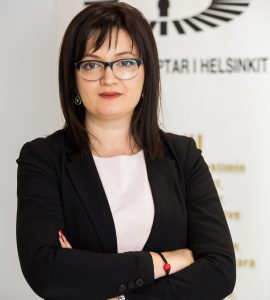 Erida Skendaj
Executive Director
She was appointed to the position of "Executive Director" by the Assembly of the Albanian Helsinki Committee in February 2016. She graduated in 2006 with the title "Jurist" and in 2011 with the title "Master of Science in Criminal Science" at the Faculty of Law, University of Tirana. After completing the university studies, her engagement in human rights field began with a one year of internship at the Ministry of Foreign Affairs, Office of the Legal Representative of Albania to international organizations (ECHR, CPT, ECRI, etc). On 2008 was licensed as a Lawyer and in the same year joined the staff of the Albanian Helsinki Committee, as a lawyer and advocate for the provision of legal services and increased access of citizens to judicial protection from discrimination of vulnerable groups, monitoring the institutions of the criminal justice system and elections, etc. In 2014 she was named "Lawyer Advisor", part of the civil service of the Albanian Parliament, being engaged in assisting the Committee on Legal Affairs, Public Administration and Human Rights to review the draft laws on issues of their compatibility with the Constitution and international acts and aspects of the legislative technique. Author and co-author in the preparation of certain number of publications, research studies, reports and articles in legal journals in the field of human rights, justice and judiciary institutions, corruption and impunity, concerning immunity and referendums, etc.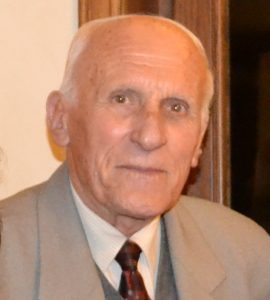 Niazi Jaho
Legal Advisor
He finished his intermediary school in Gjirokastra, and the high School in Tirana. On April 1942 he was arrested in Tirana for antifascist activity. He took part in the National War and is a war veteran. Graduated Law in U.S.S.R. After finishing his study in Leningrad University he turned back in Albania and initially worked at judiciary organs but then he was attacked by the communist regime and was fired and interned. In 1990 he turned back in Tirana and in 1991 has been publishing some essays on different issues such as Constitutional problems, HR matters and others concerning regarding the proper implementation and application of legislation's concepts of new democratic legislation in daily newspaper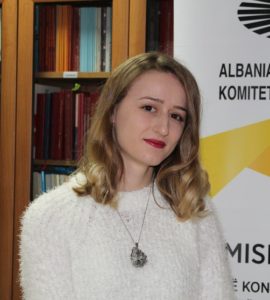 Vjosana Neziri
Financial Manager
She became a member of the Albanian Helsinki Committee staff as " Finance Assistant" in September 2018. She has attended bachelor studies at Accounting and Finance at the University of Tirana from 2013 to 2016. From 2016 until September 2018 she continued her studies at the Faculty of Economics at the University of Tirana at the master level in the Accounting and Auditing. She also worked for a short time in a commercial business during her years of study and has participated in professional trainings in accounting and finance. Since January 2016 she is engaged in the U. S. Embassy Youth Council in Albania, a structure in which she has contributed to the coordination of projects, coordination of the Civic Engagement Department and for a period she held the function of Vice President.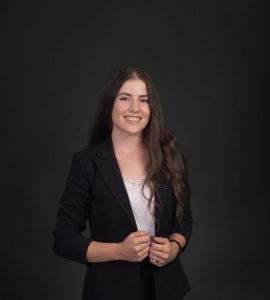 Servete Ҫeka
Paralegal/Project Assistant
Servete graduated from the University of Tirana in Law with outstanding results as a student of excellence. She is currently pursuing her studies at the same University on Master of Science in Civil Law. She has been an active part of civil society for several years now and has a particular focus on human rights. She has been part of internships with various organizations, including NDI Albania and Walk in my Shoes NGO and during the second year of law studies was selected by the US Embassy to be part of an exchange program at North Central College during the academic year 2018-2019, where she had the chance to become more familiar with the common law system and had the opportunity to contribute to community service activities. She has participated in various competitions and conferences held by the Faculty of Law and has been part of the Board of ELSA Albania for the academic year 2020-2021. She has been part of the Albanian Helsinki Committee since March 2021.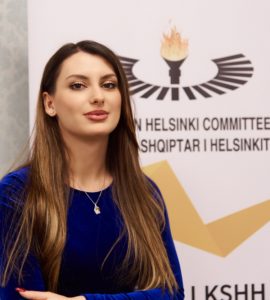 Ardita Kolmarku
Lawyer/Projects Manager
Has studied Law, the Faculty of Law, the University of Tirana, and was graduated as "Excellent Student" in the Master of Criminal Law Sciences. During the period of studies, she has been engaged in trainings, conferences and has contributed as a co-author in academic essay. Prior to the full-time employment, she attended the AHC practice program from September 2017 to December 2017. Since January 2018 is part of the Albanian Helsinki Committee staff, in the functioning as paralegal near the Legal Clinic of AHC, and follows projects with various focus on the rights of convicted / pre-detained citizens, citizens with mental health disorders, establishment and monitoring the functioning of new organs of justice system governance, providing assistance to the citizens to address their complaints before the vetting bodies, sensitizing and providing legal assistance to citizens, etc. She is currently offering her modest contribution as Assistant Attorney at AHC.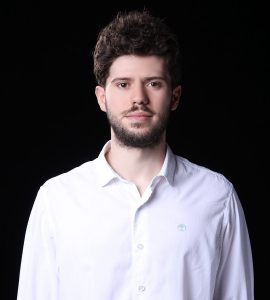 Daniel Prroni
Project Coordinator
Daniel has studied Law at the Faculty of Law, University of Tirana, and attended Master studies at the Catholic University of Leuven and the University of Zurich for European and International Law. At the end of his undergraduate studies, was involved at the OSCE Presence in Albania Programs on Gender Equality and completed a Fellowship Program at the Center for Policy Innovation on public sector innovation, behavioral design and evidence-based policy making. Daniel is part of the staff of Albanian Helsinki Committee since October 2020, where he follows projects related to human rights, democratic processes and violent extremism.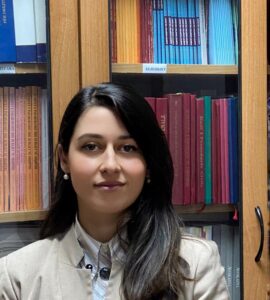 Ilda Çukaj (Dushi)
Lawyer/Projects Coordinator
Ms. Çukaj graduated as LL.M. at the University of Vienna, Austria, in the field of International and European Business Law with distinction. She completed her Bachelor and Master of Public Science studies at the Faculty of Law, University of Tirana in 2015, graduating with a degree in Law and completing her studies with a Gold Medal as an excellent student. During her university studies, she has been engaged in several activities, participating in the "International Commercial Arbitration", Belgrade, Serbia, a project of the Faculty of Law of the University of Belgrade, in cooperation with GIZ, and has completed a 1-year internship as a Legal Assistant at the Administrative Court of Appeal in Tirana. She has been engaged as an External Lecturer at the Faculty of Law, University of Tirana, also working as a Notary Assistant. Her involvement in civil society has been ongoing, with her involvement in several projects by several NGOs and USAID, with a major focus on human rights. Since October 2020, her engagement in the Albanian Helsinki Committee is in the role of a Lawyer and Project Coordinator.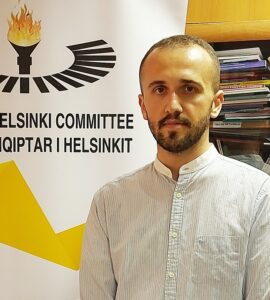 Erdion Maçolli
Lawyer at the Legal Clinic
Mr. Maçolli graduated in 2016, with high results from the Faculty of Law, University of Tirana. After graduating from the National School of Advocacy, he was provided with a license to practice law. In addition of practicing this profession, he has been engaged as an expert in several projects implemented by non-profit organizations, focusing on the Justice system and youth programs. He is currently an External Lecturer at the Department of Criminal Law at the Faculty of Law, for the subject "Criminal Law, Specific Provisions" and has an active contribution in the field of scientific research, focusing on criminal law, where he is author and co-author. in some publications. At the Albanian Helsinki Committee, he has been engaged since July as a Lawyer of the Legal Clinic, for groups of people in need.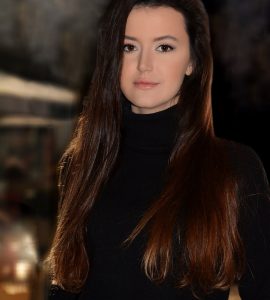 Anda Kruetani
Project Assistant
She has studied Political Science and International Relations at Epoka University during the academic period 2016-2019, where she graduated with high honors. In addition, she was the valedictorian of her faculty during the graduation ceremony. During the period January-July 2020, she followed a professional internship at the Albanian Helsinki Committee, where she was later employed part-time. From October 2020 she holds the position of Project Assistant, where she assists in the implementation and coordination of various projects. She continues her studies for a Master's degree at Epoka University.